I don't often walk out of Kroger going 'Wow, I saved so much!'. Though I do most of my staple shopping at Kroger (some produce, milk, meat, baking items and those items that I need to fill in dinners) it's not a store I typically stock up on things from. I consider it a good day if I save 25% at Kroger. Today, however, I hit a jackpot of deals that I had to share!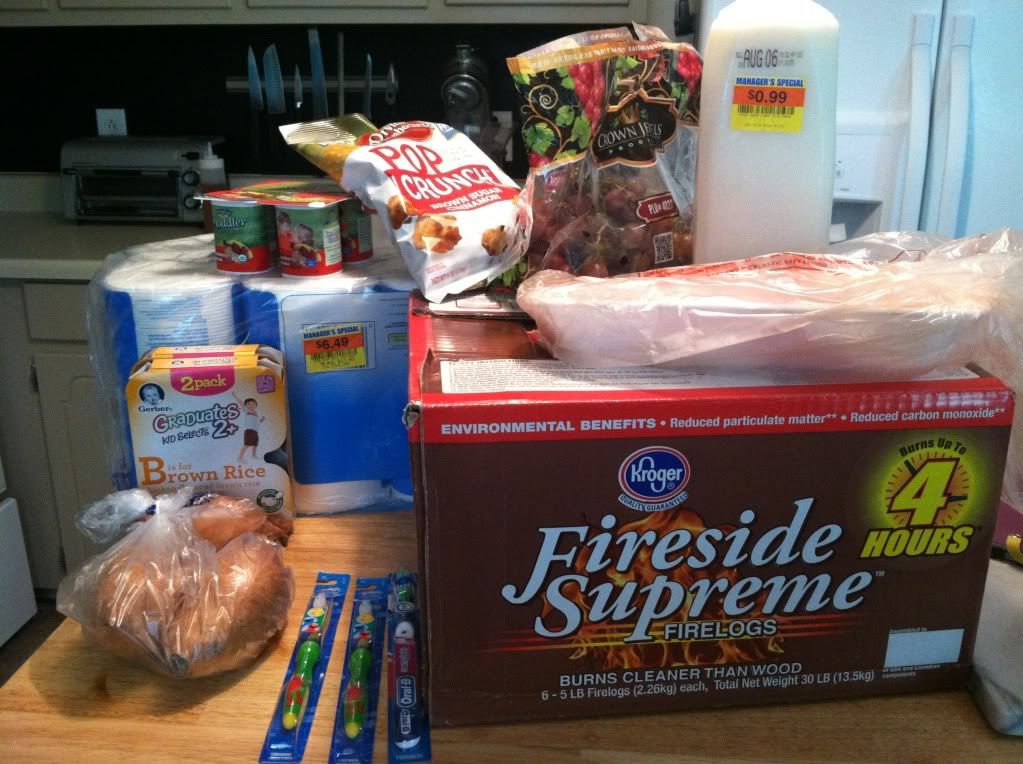 The savings ratio on this trip isn't as impressive as other shops, but we needed some odds and ends (the reason I went into the store in the first place), so that raised my total.
The truly impressive savings to me are the toilet paper and the fire logs (yes I know it's almost August what do we need those for, hang in there with me). The logs, brace yourself for this, were just $2.19, yep you read that right. An employee was bringing a cart with markdowns out and I saw them sitting there with a $2.19 price tag on them. I asked him if that was per log. He said 'Nope, we found them hiding out in the back. I scanned it and it printed out a tag for that price'. I was sold. Those logs are more than that per log and I got 6 for that price. I'll tuck them in the garage until cold weather season rolls around and then I'll be thankful to have gotten them!
The toilet paper was, for whatever reason, marked down to $6.49 from $12.99 (50% right there) and I had a $0.50 off coupon that doubled to a dollar, bringing 20 rolls of toilet paper down to just $5.49 (or just $0.27 a roll, my stock up price is $0.35 or lower).
I also got some pork chops on markdown ($4.29) plus I used a $1 off fresh pork coupon and a half gallon of Skim for $0.99 that still had a week left on the expiration date!
It was definitely worth my time to scan the markdowns today!
The other deals I got today were included in the buy 5 save $5 sale.
2 Crest Kid's Toothbrushes $0.79--used 2 $0.50 off coupons from 7/28
2 2+ Gerber Meals $1.99--used a BOGO cash register printed coupon
1 Oral-B Complete Toothbrush $1.49--used a $0.75 coupon from 7/07
I also bought other items, but those were the great deals in total I spent $23.49 and saved $17.51, which is over 42% and the savings amount doesn't include the markdown prices; if you include that I saved over double that amount!
So at the end of the day the lesson from this? Take the time to shop the clearance. What you find won't
always
be a great deal, but you never know what you'll find!